Reviews
Dear Tsuneharu,

Stephen and I returned home to Sydney on the weekend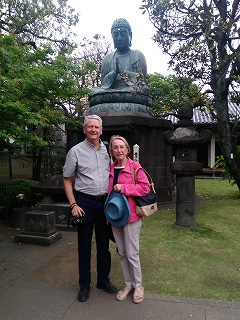 and wish to express again our warmest thanks for the time you so kindly spent with us on May 9th showing us around Asakusa and Yanaka. It was a most interesting day and we were so pleased to have your company and guidance.
We certainly walked a few kilometres, didn't we?
The following day we spent walking through the Imperial Palace Garden and the Ginza shopping area before going to the baseball game at the Tokyo Dome - quite an experience and one we also enjoyed very much. The rest of our trip went well. Kanazawa was lovely, especially our day trip to Shirakawa-go; Kyoto amazing in its size but so much to enjoy; a hot and crowded day in Nara Park;and then finally on to Hiroshima, the Peace Park and the Museum so moving, and the trip to Miyajima Island and the heart-stopping Ropeway to the top of the mountain. We are so impressed with the Japanese rail system! All in all, our trip to Japan was a very happy one,and one never to be forgotten. Thank you for all that you did to make it so. With all good wishes to you and your Famil.
Sandra and Stephen
NSW,Australia

---
We wanted, Louise and I, to thank for guiding us in Tokyo during our visit on 14 and 15 March.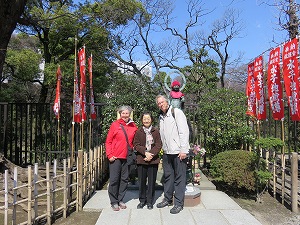 We arrived in Tokyo at Harumi Passenger Terminal on Monday 14 March on time and made our way to the main gate of the Tsujiki Market as agreed with Sachiko.
Interesting visit of the market. Then made our way to Hamarikyu Garden for a nice visit in spite of the persistent rain.? Had a short tea ceremony in the Tea House. ?
We briefly visited Shibuya before making our way to the Tokyo Metropolitan Government Building and it's observation deck in Shinjuku which showed nice views of the city in spite of fog and rain.? Had a short late lunch.
Concluded our day with a visit to the impressive Meiji Shrine.
Guide of Shinagawa SGG then accompanied us back and made sure we were on the right bus to go back to Harumi Terminal.
With the rain, if we had been on our own, we would not have had a productive day.Guide turned a rainy and cold day into a productive one.
Next day we again met Guide of Sinagawa SGG at the main gate of the Tsujiki market.? Guide wanted us to visit the Edo-Tokyo Museum but the day was sunny and very nice and we did not want to be indoors in a museum.? We also informed her that we would like to have a nice Sushi lunch that day which she agreed to set-up.
We visited Asakusa, first it's Culture Center and it's observation deck with nice views of the Sumida river, then the Sensoji Temple with the adjoining shopping streets.? We had a very nice lunch.
Guide then accompanied us back to Shibuya where Louise wanted to do a bit of shopping. And we then said goodbye.
She's English while a bit hesitant at first improved as the 2 days together progressed.? It was clear to us that she had spent a lot of time preparing for our visit and trying to organize our visit according to our tastes and limited time.
We would like to thank her for a nice 2-day visit of your impressive city.

Regards,
Louise and Pierre Goulet
Montreal, Canada

---
Meeting with Real Japanese People
My husband and I took a trip to Japan this summer. We have traveled a good bit and have learned that one of the things we like is to visit other cultures and see how others really live. We were pleasantly surprised when our travel agent told us about the goodwill guides?it seemed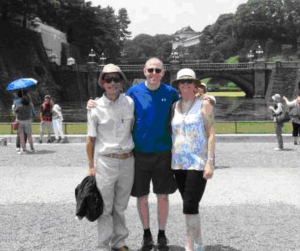 perfect for us to have a real Japanese citizen, rather than a tour operator, take us around Tokyo and show us their city from their perspective. We were not disappointed. Our guide of Sinagawa SGG was wonderful. He met us in our hotel lobby on our first day there and proceeded to take us EVERYWHERE in Tokyo. We are 60 years old and in good physical shape, he was a bit older but he wore us out! We saw many of the sights that I had read about and wanted to see such as the fish market, Imperial palace, and the Asakusa Temple and Shrine. But he also showed us things that I would never have guessed were there such as the incredible food court on the ground floor of a department store. We were amazed at what was being sold and had never seen anything like it. Of course we traveled using the subway system and we were grateful for the crash course in how to use it. We also enjoyed a very Japanese lunch which we allowed him to choose for us. One of the best things that happened, however, was our conversation about American and Japanese politics (my husband was a political science major and had focused on Japanese history so he had a nice background here.) We have continued this conversation via email since and plan to do more of that in the future. We feel like we have a new friend?one very different from our American friends. He was as kind, pleasant, and polite as we found all the Japanese people to be. We were very impressed with Japan and have proceeded to spread the word to our friends. I would also like to add that we were very happy with our travel agent, who we found online. Catherine with Audley Travel did a fantastic job of planning our entire trip for us in accordance with what we described to her as our likes and dislikes. We hope more Americans will visit Japan. It is a fascinating country and it's people are unbelievably nice.
Nancy and Rob Murray
Charlotte, North Carolina, USA
---
I have been organizing family trips to different parts of the world for the past seven years, but have never considered Japan because it's listed as one of the most expensive countries to visit in the world.
However, my older sister who lives in Taiwan, laughed at this. She told me her family and she have been visiting Japan from Hokkaido to Kyushu, almost every year and that it's most affordable. They simply love Japan!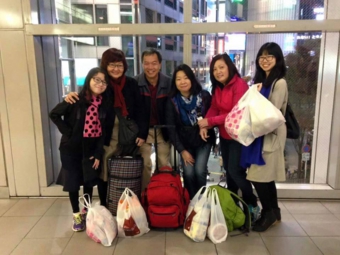 She greatly encouraged me to go, to experience the wonderful culture (cleanliness, helpfulness and politeness) and see for myself. With her useful tips and advice, I booked flight tickets for six members in my family to fly to Tokyo. It was middle of February, 2015.

Then, I started to plan our travel itinerary. When I surveyed Tokyo Metro system, I began to panic. I knew I wouldn't be able to handle it. My husband and family members always leave everything to me.
I had the Tokyo Metro Map printed out and I pored over it again and again. I watched youtube for weeks. Trepidation filled me.

As usual (being a Tripadvisor member), I began to read TA reviews. How glad I was when I chanced upon a TA member introducing us to JNTO Goodwill Guides!
Without any hesitation, I submitted my application. It was sometime in May or June. Our visit would be 20-26 Nov 2015. That was really a long way ahead. The kind coordinator gave me a prompt reply. He told me it was too early, but anyway, he would email my application to all his members. I admitted yes, it was early; for I was hoping that 'early bird catches the worm'.

Imagine, to my great delight, he replied the very next day to inform me that the 'eearly bird' had indeed 'caught the worm' She had accepted and volunteered to be our guide!
Just to mention her name brings such warmth to my heart. She was a joy to our group.
Being English-educated, I could only correspond in English. She obliged and also used English. I could understand her very well. However, she told me she's more comfortable in Chinese.
So, when we met her, we spoke Chinese throughout. She's a very pleasant and attractive-looking lady and so energetic.

The first morning (20 Nov 2015 Saturday), she brought us to Asakusa to visit Sensoji Temple, also to buy souvenirs and then to lunch at Maguro-bito. There was a long queue when we arrived. Thanks to Guide. She had taken the trouble to reserve seats for us before we came. She helped us order the food we liked. We had a very good meal there.

Then, while we were sitting in the train, she asked me what plans we had for the next day. I replied: "gJust shimokitazawa, shopping only."She offered to bring us. Actually, in our emails, she had already volunteered to accompany us for more than one day, but I refrained. I thought it wouldn't be fair on her. For those who're not shopping, waiting for those who're shopping could be extremely tedious. I shook my head, "No, never mind. We'll do it on our own."

I knew she was concerned over us. From our actions, she knew we were still unsure of how to handle the metro system. She persisted. This time, I looked at her; "But, are you sure you wouldn't mind if we shopped and shopped and you had to wait?" She grinned and confirmed: "I don't mind. I'll do it for your group." So, it was settled. What a relief, what a great burden off my shoulders! She does have a sharp mind and good observation. She was aware that we needed more guidance.

The next day, when we met and she heard that we had not had our breakfast, she brought us to a good soba restaurant near Hachiko Exit (Shibuya). We invited her to join us, but she declined. Because it was a "stand-and-eat place" and quite small, she waited for us outside. It was not a short wait. She's indeed so self-sacrificing.

I really salute She kept asking what we wanted to do, where we wanted to go. After we'd told her, she'd use her smartphone to Google and search for details. She' very clever at that and so efficient, too.
During lunch at Ozawa in Shimokitazawa, she handed me a cute pack of chocs for the six of us. She told us it's her gift for us! How generous and considerate of her!
It was about 16:00 when we decided to go back. She escorted us all the way to Ebisu Station. We were staying at Ebisu area. She had to be sure that we'd arrived 'home' safely. We all felt pangs of 'homesickness' as we bid farewell to her. We miss her charming and caring personality so much!
Even after that farewell, because she knew we had not bought something we wanted, she kept messaging us. She made searches in Google and taught us where to go to buy that something. It was indeed most touching.

We had been using professional tour guides in some other Asian countries, but Guide of Shinagawa SGG is the BEST!
She's amazing. THUMBS UP from all six of us!
Thank you, JNTO, for having such wonderful Goodwill guides.She made our Japan trip so enjoyable and memorable. We really felt we were not alone there. She made us want to go back to Japan again. And yes, wfll most certainly return---
DOMO ARIGATO GOZAIMASHITA!
(Patrick & Teresa, Malaysia)